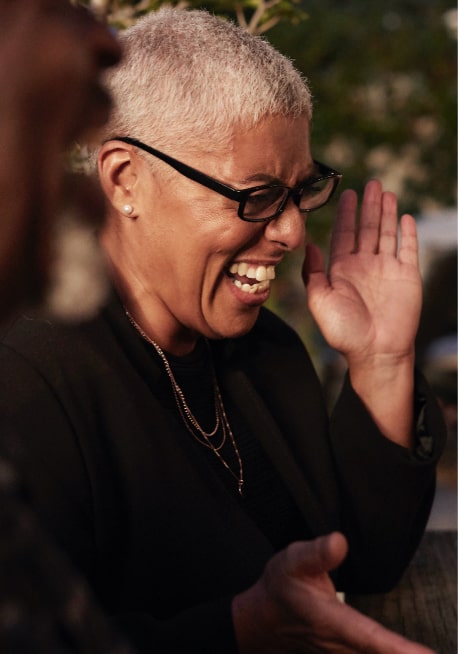 The people behind our home care
PROPELLING LIVES FORWARD
If you've been searching for a home care agency for your care or your loved one's care, then you know there is a sea of sameness in the dozens of home care choices, making it difficult to actually choose one. And we know that can be frustrating.
Hello,
Welcome to SYNERGY HomeCare in Delray Beach, serving all of Palm Beach County including Boca Raton, Delray Beach, Boynton Beach, Highland Beach, Lake Worth, Atlantis, Greenacres, Wellington, Royal Palm Beach, Manalapan, Jupiter, Palm Beach Gardens and West Palm Beach.
With quality care as our top priority, SYNERGY HomeCare in Delray Beach chose to earn accreditation from the nation's premier healthcare accreditation company, the Community Health Accreditation Program (CHAP). We keep very high standards so that we will continue to set the benchmark for quality in-home care.
The Benefits of Home Care
Home care is a service that can help you with daily living as you age, recover from surgery or other procedures, or combat the challenges of long-term health conditions. Persons of any age who need companionship, personal care or household assistance can receive our support. We also provide complimentary family caregiver training through our Life Time Learning program that will help you better care for your loved one with Alzheimer's disease, dementia, COPD, CHF, cancer, diabetes, Parkinson's disease, muscular dystrophy, and stroke.
SYNERGY HomeCare can help with activities such as bathing/showering assistance, help with restroom use, walking assistance, help in and out of bed, light housekeeping, cooking meals, help with grocery shopping and providing transportation to the physical therapist or doctor.
Since the Palm Beach area is a great place for traveling retirees, we are pleased to serve many people during the winter and then coordinate care at their summer Synergy HomeCare location.
Our Compassionate Caregivers
The proper care of yourself, your family members and other loved ones is one of the most important aspects of home care. Each member of our careTEAM has the education and the natural compassion essential to giving extraordinary care. We require each caregiver to be Certified Nursing Assistants or a Home Health Aides. Other requirements include passing personal and business reference checks, a national background search, a Level 2 Fingerprint testing validation through the FBI, E-Verification through the Department of Homeland Security, ongoing driving-record checks, a yearly physical exam and a continuing orientation program.
Ultimately, our decision to employ caregivers comes down to whether we would assign them to our own families.
At SYNERGY HomeCare, we are flexible to your care requirements and schedule. Our caregivers are available 24 hours a day, 7 days a week to serve you. We cover payroll taxes, workman's compensation and all other liabilities for our caregivers. During times when a caregiver is not present at your house, we can ensure your constant care coverage with a complimentary medical alert system that can call for help at the push of a button. Also on hand is our complimentary Vial of Life which, in case of emergency, medical personnel can access your important health information.
Open communication between caregivers, clients, and family members is important to us and we can facilitate active communication between you and your caregiver regarding the details of your loved one's daily care. We can also provide respite to family caregivers by fitting care to your schedule. In addition, our Life Time Learning system can provide you with basic caregiving practices.
Naturally, your loved one may need medical assistance for physical therapy and wound care. In these instances, we partner with Medicare-certified Home Health Agencies that provide these services. If you need help choosing assisted living facilities, independent living facilities, skilled nursing homes or rehab centers, we work with a lot of reputable facilities in the Palm Beach County area and can recommend the best. We also work with a lot of Eldercare Attorneys who handle all legal issues for health and financial planning. We also work with Veteran's Benefits Programs and all Long-term care insurances.
We are available to help you at any time. Please contact us at (561) 276-9985 or email us at info@synergypalmbeach.com. We can provide you a no-obligation in-home assessment and a home safety evaluation.
Sincerely,
SYNERGY HomeCare, Delray Beach
Our promise to you: care that moves you
Life is in constant motion. From the time we smile our first smile, ride our first bike, find our first home or embrace our first grandchild, it just keeps moving. And a moving life is a full one. But sometimes, life can take a turn that slows us down, or even stops us in our tracks. That's where SYNERGY HomeCare comes in. To keep the basic needs of your life effortlessly moving forward. So you can focus on what moves you and get the most out of every day.
We guide with purpose
We take a strong lead with a kind hand in what can be a stressful, uncertain time in your life. By charting an assured course and making certain that you and your family members understand what's happening, we can keep you comfortable every step of the way.
Great care comes from confidence, and confidence is contagious. We know what we're doing and we're always striving to do it better. One of the things we do best is relate to people on a personal level. And when you do something well, it breeds confidence. In you, and everyone around you. That's why our clients, employees and franchise owners are so confident, too.
How we do it:
We serve beyond the job description.
We approach the job with a sense of adventure and purpose.
We take ownership and responsibility over results.
We quickly spot new opportunities for improvement and act on them.
We know individual people have individual needs
What we do:
We listen and ask questions. That's the best way to learn how to impact an individual's life. That's how we do it. And that's why we are recognized as an organization that shows an unwavering commitment to understanding people's needs and providing the care option that best adapts to those needs. This is how we keep you and your life moving forward by being intuitively personal.
How we do it:
We approach every encounter with compassion, personality and positive energy.
We inspire others through words.
We are curious. We ask questions and listen to what's unspoken.
We help you set goals. We make you feel as though we are walking with you on your care journey.
Life moves in one direction – forward. No matter your circumstances, SYNERGY HomeCare steps in with effective, comforting, life-affirming care that moves people emotionally and physically forward, from personal assistance and companionship to live-in and even family caregiver respite. We provide full support for fuller lives. Ultimately, we create a feeling of forward momentum, not just in lives but also in the home care industry.
Whether you're a high-octane octogenarian who just needs a hand, someone confined to bed who needs a little more help, or a person dealing with lifelong disabilities who needs someone to walk beside them on their journey, we're here to care with whole hearts and open arms.
We know you have questions. And we have answers. When the time is right for you, we would be honored to speak with you. We listen!