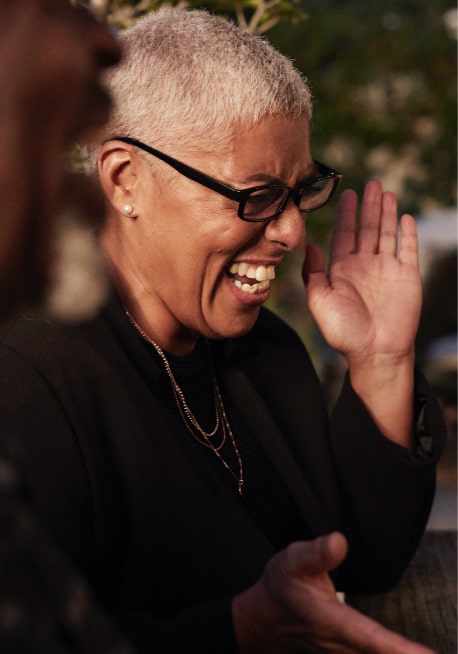 The people behind our 

non-medical 

home care
PROPELLING LIVES FORWARD
If you've been searching for a non-medical home care agency for your care or your loved one's care, then you know there is a sea of sameness in the dozens of home care choices, making it difficult to actually choose one. And we know that can be frustrating.
Accessible and Customizable Care
You or your loved one should not need to go anywhere to receive attentive and compassionate care. Home care is easy to access because it is given in your home. When you are recovering from illness or injury, or are receiving help in elder age, a comfortable, welcoming and safe environment is the best place to be. Even if you live in an assisted living community or retirement home, we can coordinate your best care with your health care provider.
Meet SYNERGY HomeCare of Fairfield
Laurie and Jay Kiley have owned SYNERGY HomeCare of Fairfield since 2011. During that period, their professional care team has provided peace of mind at home to more than a thousand local families.  
Jay and Laurie have lived in Connecticut for over 27 years and enjoy working throughout the local community, caring for all in need. Jay sits on the Board of Directors for the Trumbull Chamber of Commerce. He's also active in the Trumbull Rotary Club and the local chapter of the Home Care Association of America.
On a snowy day, you'll find Jay driving caregivers in his SYNERGY HomeCare vehicle to clients' homes to make certain everyone gets the quality care that they deserve. 
The Kileys are committed to helping clients navigate the best ways to pay for home care and take pride in their affiliations with long-term care insurance companies, Medicare Advantage programs, and their long-term relationship with the Veterans Administration.
At this year's SYNERGY HomeCare Annual Franchise Meeting, they were honored with the Paul Avona Compassion Award, one of the highest recognitions in the franchise network. The prestigious award is named in memory of Paul Avona who dedicated 12 years of his career as Chief Corporate Officer of SYNERGY HomeCare, and is reserved exclusively for the franchisee that most embodies Paul's entrepreneurial spirit, and more importantly, his passion and love for others. 
SYNERGY HomeCare of Fairfield is also recognized as a leader in experience, provider of choice and employer of choice by Home Care Pulse, the leading firm in experience management for home care.
Erica Gabrenas, their Director of Care, brings years of experience and compassion to the role. Mariluz Gerena does a spectacular job hiring a consistent stream of caregivers to work with clients. Dorys Mayorga keeps the office running smoothly.
Please give them a call at 203-923-8866 with any questions. They have been through what you are currently going through with their own parents as well as hundreds of our SYNERGY HomeCare mothers, fathers, and grandparents.
Awards and Recognitions:
Our promise to you: care that moves you
Life is in constant motion. From the time we smile our first smile, ride our first bike, find our first home or embrace our first grandchild, it just keeps moving. And a moving life is a full one. But sometimes, life can take a turn that slows us down, or even stops us in our tracks. That's where SYNERGY HomeCare comes in. To keep the basic needs of your life effortlessly moving forward. So you can focus on what moves you and get the most out of every day.
We guide with purpose
We take a strong lead with a kind hand in what can be a stressful, uncertain time in your life. By charting an assured course and making certain that you and your family members understand what's happening, we can keep you comfortable every step of the way.
Great care comes from confidence, and confidence is contagious. We know what we're doing and we're always striving to do it better. One of the things we do best is relate to people on a personal level. And when you do something well, it breeds confidence. In you, and everyone around you. That's why our clients, employees and franchise owners are so confident, too.
How we do it:
We serve beyond the job description.
We approach the job with a sense of adventure and purpose.
We take ownership and responsibility over results.
We quickly spot new opportunities for improvement and act on them.
We know individual people have individual needs
What we do:
We listen and ask questions. That's the best way to learn how to impact an individual's life. That's how we do it. And that's why we are recognized as an organization that shows an unwavering commitment to understanding people's needs and providing the non-medical care option that best adapts to those needs. This is how we keep you and your life moving forward by being intuitively personal.
How we do it:
We approach every encounter with compassion, personality and positive energy.
We inspire others through words.
We are curious. We ask questions and listen to what's unspoken.
We help you set goals. We make you feel as though we are walking with you on your care journey.
Life moves in one direction – forward. No matter your circumstances, SYNERGY HomeCare steps in with effective, comforting, life-affirming non-medical care that moves people emotionally and physically forward, from personal assistance and companionship to live-in and even family caregiver respite. We provide full support for fuller lives. Ultimately, we create a feeling of forward momentum, not just in lives but also in the home care industry.
Whether you're a high-octane octogenarian who just needs a hand, someone confined to bed who needs a little more help, or a person dealing with lifelong disabilities who needs someone to walk beside them on their journey, we're here to care with whole hearts and open arms.
We know you have questions. And we have answers. When the time is right for you, we would be honored to speak with you. We listen!
Registration number:  HCA. 0000644