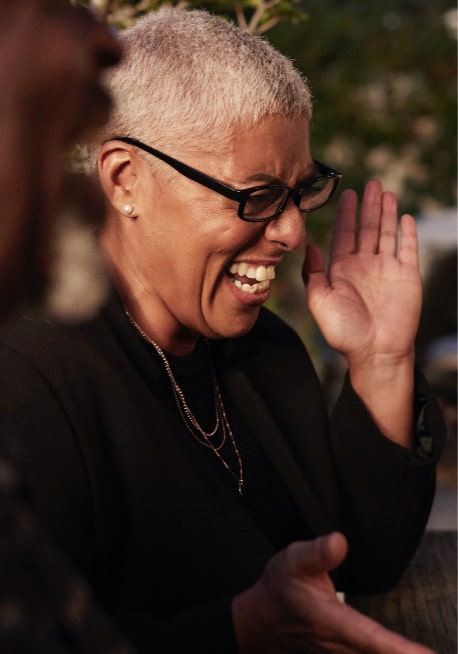 The people behind our home care
PROPELLING LIVES FORWARD
If you've been searching for a home care agency for your care or your loved one's care, then you know there is a sea of sameness in the dozens of home care choices, making it difficult to actually choose one. And we know that can be frustrating.
Our promise to you: care that moves you
Life is in constant motion. From the time we smile our first smile, ride our first bike, find our first home or embrace our first grandchild, it just keeps moving. And a moving life is a full one. But sometimes, life can take a turn that slows us down, or even stops us in our tracks. That's where SYNERGY HomeCare comes in. To keep the basic needs of your life effortlessly moving forward. So you can focus on what moves you and get the most out of every day.
We guide with purpose:
We take a strong lead with a kind hand in what can be a stressful, uncertain time in your life. By charting an assured course and making certain that you and your family members understand what's happening, we can keep you comfortable every step of the way.
Great care comes from confidence, and confidence is contagious. We know what we're doing and we're always striving to do it better. One of the things we do best is relate to people on a personal level. And when you do something well, it breeds confidence. In you, and everyone around you. That's why our clients, employees and franchise owners are so confident, too.
How we do it:
We serve beyond the job description.
We approach the job with a sense of adventure and purpose.
We take ownership and responsibility over results.
We quickly spot new opportunities for improvement and act on them.
We are exceptionally qualified:
Providing non-medical home care in Chicago, IL and the surrounding areas for you or a loved one is a great honor and responsibility, one which we do not take lightly. Our service complies with all state and federal guidelines for non-medical home care services.
We take quality to the next level. We hire the best caregivers and make them better, which ensures that you receive the best one-on-one care. Our owners accompany each caregiver to the initial service appointment and verify that the caregiver selected is suitable for you. We also follow up with our clients regularly to ensure that care is properly aligned with all concerned parties. In addition to complying with all state and federal regulations, our processes and procedures are extensive, in order to cover every area of our business. We are:
State licensed
Insured and bonded
Extensive quality policies and procedures
Our clients say it best:
"In reflecting upon this day and the time we have spent in the care of Synergy I just wanted to let you know that I cannot thank you enough for your professionalism, responsiveness, compassion, caring and commitment to excellence.  You and your team touch people in deeply personal ways at their times of greatest need.  What you give is indescribable and invaluable.  I imagine you can only feel the stress and weight of that work, but I hope that you have perspective on all of the good that you do and find peace knowing that what you are engaged in a profession that is sometimes unsung and underappreciated but is yet among the most crucial, thankless and selfless of services to people.  I cannot thank you enough." – Kevin Freeman
We know individual people have individual needs
What we do:
We listen and ask questions. That's the best way to learn how to impact an individual's life. That's how we do it. And that's why we are recognized as an organization that shows an unwavering commitment to understanding people's needs and providing the care option that best adapts to those needs. This is how we keep you and your life moving forward by being intuitively personal.
How we do it:
We approach every encounter with compassion, personality and positive energy.
We inspire others through words.
We are curious. We ask questions and listen to what's unspoken.
We help you set goals. We make you feel as though we are walking with you on your care journey.
Life moves in one direction – forward. No matter your circumstances, SYNERGY HomeCare steps in with effective, comforting, life-affirming care that moves people emotionally and physically forward, from personal assistance and companionship to live-in and even family caregiver respite. We provide full support for fuller lives. Ultimately, we create a feeling of forward momentum, not just in lives but also in the home care industry.
Whether you're a high-octane octogenarian who just needs a hand, someone confined to bed who needs a little more help, or a person dealing with lifelong disabilities who needs someone to walk beside them on their journey, we're here to care with whole hearts and open arms.
We know you have questions. And we have answers. When the time is right for you, we would be honored to speak with you. We listen!
Questions and uncertainty:
We understand that there are questions and uncertainty that surround the process of finding care at home for you or a loved one. Will everyone be comfortable? Is the provider competent? What services can they provide? Can I count on them? What will this cost? Is this the right choice for me or my loved one?
At SYNERGY HomeCare of Northern Chicago, we can answer all of your questions and help to remove the uncertainty of services in home care in Chicago and the surrounding areas. The goals of our highly trained staff are to:
Completely understand your unique needs
Ensure you know about all available resources
Educate you on your options
Provide a higher standard of caregiving
Improve you or your loved one's quality of life
We accept Long Term Care Insurance and can help you with your claims! Call us at (773) 868-3183 to learn more!
We are flexible:
And that is great news for you. You are not tied to a contract like many providers and our Care Plans are adaptable. We review and adjust your Care Plan as your care needs change. No contracts or penalties like many providers. We provide care wherever you call home──from an independent or assisted living facility to rehab or at your house or apartment, wherever you call home!
Whether it's surgery recovery, chronic illness, physical, mental or developmental challenges, or simply aging, SYNERGY HomeCare is here to provide the lift you need, exactly when you need it. We understand and support your desire to be living confidently in your independence in the home you love.